Most volunteers in our museum recognize that the M18 Hellcat is preparing for movement when they see and hear a crewman cranking the engine over. We are asked the same question every time. Is this how you start the engine? In theory, we could start the engine without complete this procedure BUT there is a valid reason we don't.
Hydrolock or hydrostatic lock occurs when a volume of liquid greater than the volume of the cylinder at its minimum (end of the piston's stroke) enters the cylinder. It's common on radial and inverted engines (cylinders pointing downwards) when the engine sits for a long period and engine oil seeps down under gravity into the cylinder through various means (through the rings, valve guides, etc.) and can fill a cylinder.
Since liquids are nearly incompressible the piston cannot complete its travel; either the engine must stop rotating or a mechanical failure will occur such as a bent or broken connecting rod, a fractured crank, a fractured head, a fractured block, crankcase damage, damaged bearings, or any combination of these.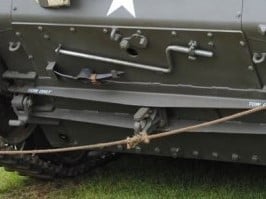 Since the museum doesn't have spare Continental R-975-C4, 9-cylinder radial engines sitting on the shelf, the crew was always ensure that the upmost care and procedures are adhered too at all times. So every time the M18 is due to move OR she's been sitting for more than 45 minutes unused, the crew will start this process.
A strong Cardiac workout before breakfast and a good cup of Joe.
Removing the crank handle that's stored externally at the rear of the hull, opening up the swivel access hatch, inserting the handle end inside the engine coupling, the crewman cranks over the pistons to remove any unwanted oil that's been collecting inside the inverted cylinders.
What's the magic number of revolutions that must be completed? Our magic number is fifty-one. That's more than enough to push through full piston movement on all nine cylinders a few times over. In addition it does give the lowest ranking crewman a good cardiac workout, especially before breakfast and a good cup of Joe.